Explorer of the Seas

Cruise Only price from: £1,119
9 NIGHT NORWEGIAN FJORDS CRUISE
9 NIGHT NORWEGIAN FJORDS CRUISE
DATE
PORT / LOCATION
COUNTRY
ACCOMODATION
31 May 2019
SOUTHAMPTON
On Board
01 Jun 2019
CRUISING
On Board
02 Jun 2019
BERGEN
On Board
03 Jun 2019
GEIRANGER
On Board
04 Jun 2019
MOLDE
On Board
05 Jun 2019
OLDEN
On Board
06 Jun 2019
ALESUND
On Board
07 Jun 2019
STAVANGER
On Board
08 Jun 2019
CRUISING
On Board
09 Jun 2019
SOUTHAMPTON
Return
Overview
Explorer of the Seas is a stunning floating resort and is a huge RCI ship with lots of facilities. It has two lobbies up to 11 decks high and a 4 deck high promenade the length of two football fields.  Explorer of the Seas passengers tend to be All ages and Mostly American but more Brits/Europeans in Europe. When all cabins have double occupancy, the ship provides a space ratio of 44.3 tons per passenger and a crew to passenger ratio of one for every 2.6 passengers. At full capacity the space ratio is 35.9 tons per passenger and the crew ratio is one to 3.3 passengers.
Balcony Staterooms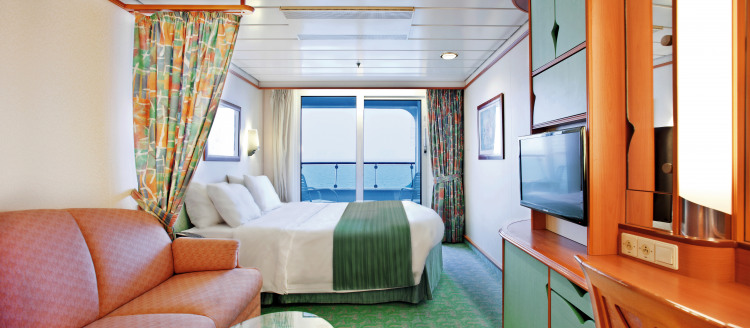 Throw open the doors and let the ocean air invigorate you. Take in the view all the way to the horizon in a luxurious stateroom with a private balcony. 
STATS
Superior Balcony Stateroom: 180 Square Feet, Balcony 50 Square Feet, Sleeps 2

Deluxe Balcony Stateroom: 165 Square Feet, Balcony 50 Square Feet, Sleeps 2

Ocean View Staterooms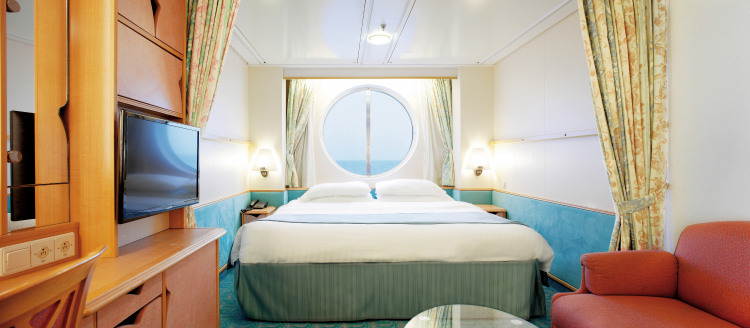 Even after a day of activity there's no need to lose your sea view – Outside Staterooms give you a panoramic window on the world. 
STATS
Family Ocean View: 265 Square Feet, Sleeps 6

Panoramic Ocean View: 190-405 Square Feet, Sleeps 4

Large Ocean View 175 Square Feet, Sleeps 2

Ocean View: 160 Square Feet, Sleeps 2

Interior Cabins
Comfort and little luxuries are the order of the day in these cosy and affordable Interior Staterooms. 
STATS
Interior Staterooms: 150 Square Feet, Sleep 2

Whatever you're in the mood for, you can tempt your taste buds with delicious food and drink at a variety of fantastic venues onboard Explorer of the Seas®.
Main Dining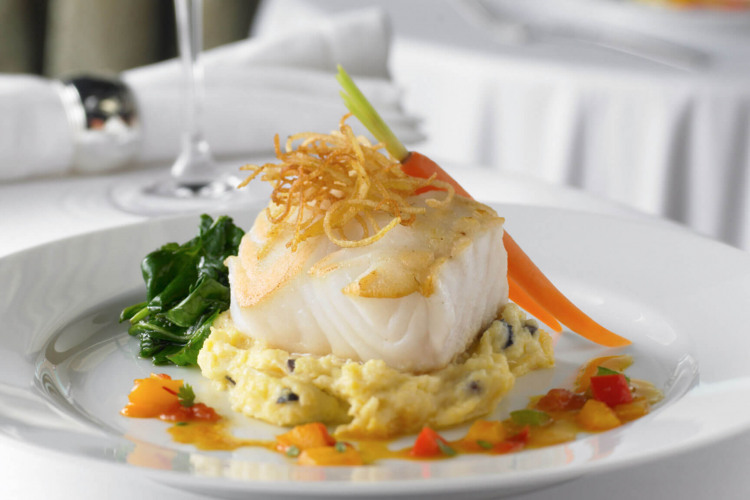 This elegant 3 story restaurant is the perfect place for a special occasion, with a menu of fine dining and our trademark excellent service.
Johnny Rockets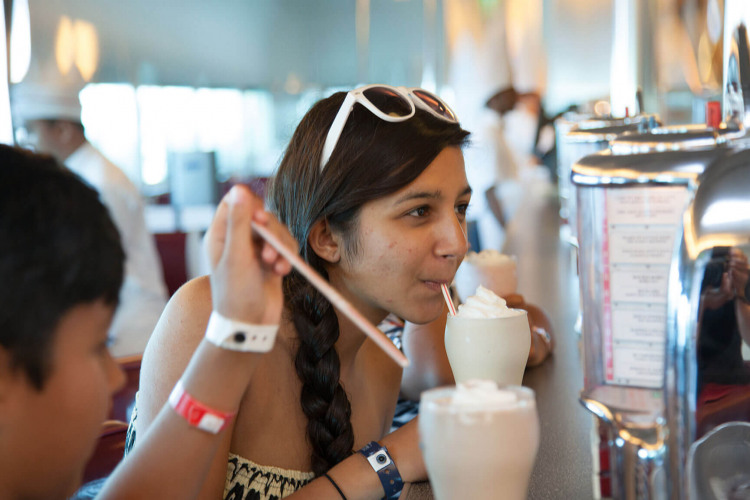 1950s style diner, offering fast, friendly service. A traditional burger joint serving a range of hamburgers, hotdogs, milkshakes and sodas, indoor and outdoor seating is available, with jukeboxes adding to the ambiance.
Windjammer Cafe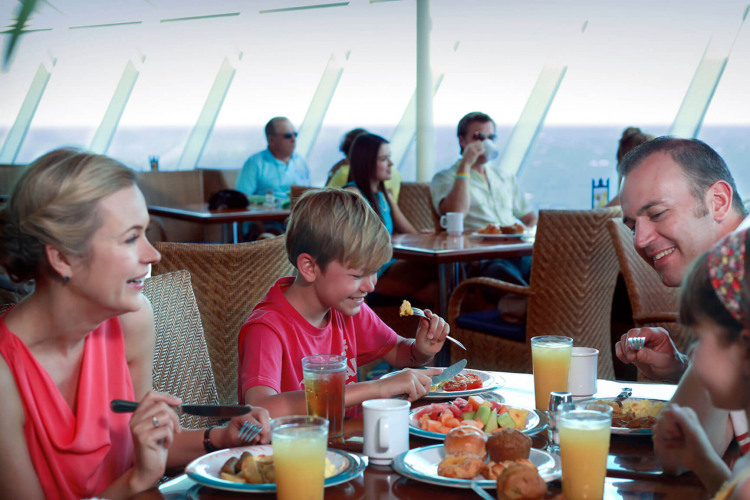 Self-service buffet breakfasts and lunches, with restaurant service during the evenings. Casual atmosphere combined with a changing evening menu makes Windjammer one of the more popular eateries onboard.
Giovanni's Table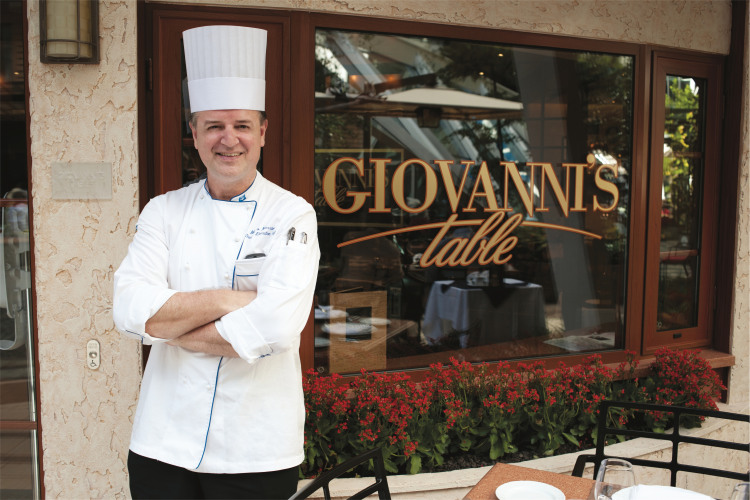 Be transported to an Italian trattoria at this rustic venue, where the signature flavours of Tuscany and delicious fresh ingredients combine to make a truly special dining experience.
Izumi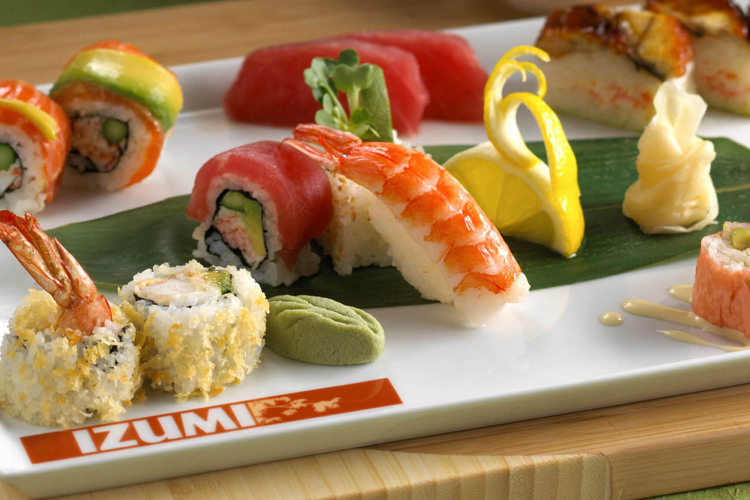 The traditional japanese dishes at Izumi will impress you with their pure, delicate flavours, freshness of ingredients and impeccable presentation. Diners can choose from popular sushi rolls, sashimi, Hot Rock (Ishiyaki) Plates, sukiyaki and more.
Chops Grille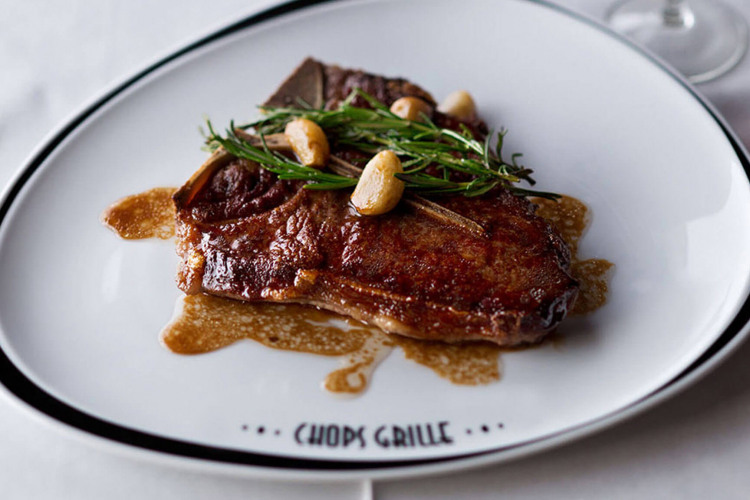 Royal Caribbean's popular signature steakhouse, featuring grade-A premium cuts of steak cooked to your specifications, plus fresh seafood, hearty side dishes and signature desserts in an upscale, contemporary setting.
Cafe Promenade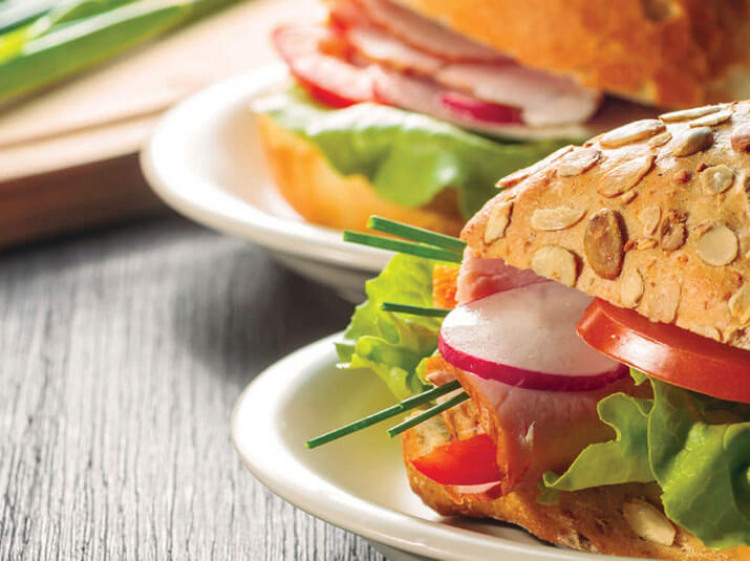 This café on the Royal Promenade offers specialty coffees, snacks and pastries in the morning and sandwiches and cookies throughout the day and night.
From traditional cruise favourites to innovative, first at sea activities; the entertainment onboard offers something for all ages and preferences.
Casino Royale
The exciting Casino Royale offers, roulette, black jack, poker and slot machines, with lessons, games and tournaments for players of all abilities.
Royal Promenade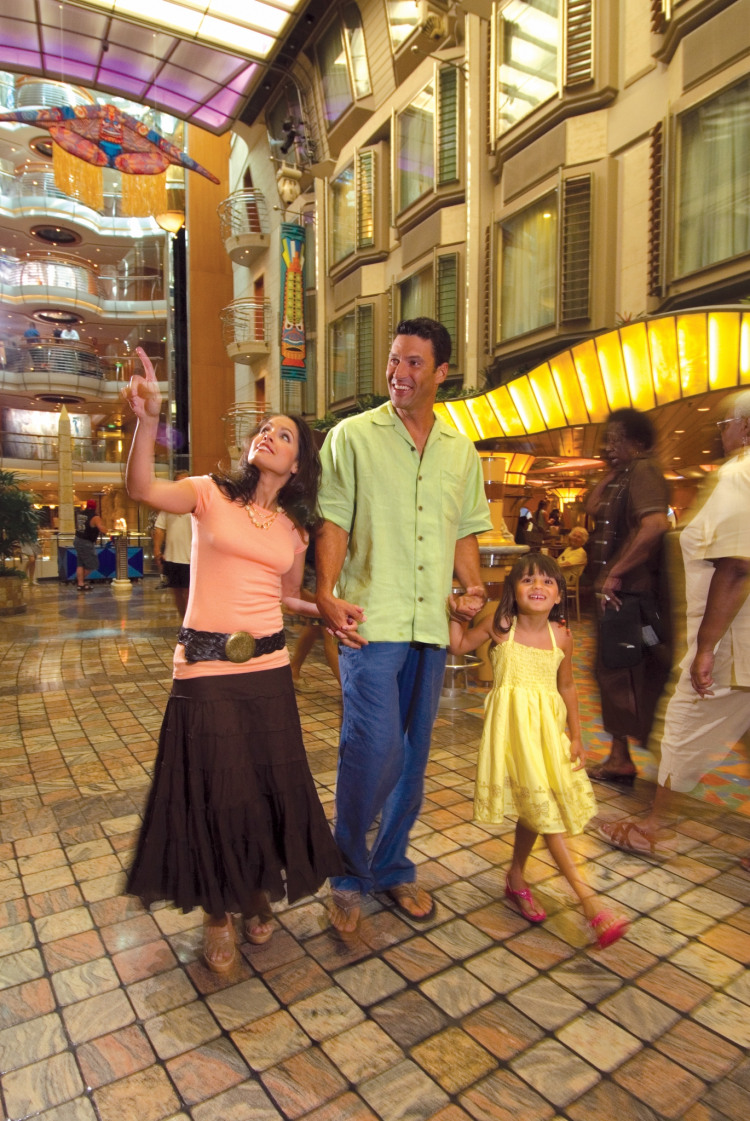 Located in the heart of the ship; 2 football pitches long and 4 decks high – the Royal Promenade is lined with boutiques, as well as 24-hour casual dining and drinking options.
Palace Theatre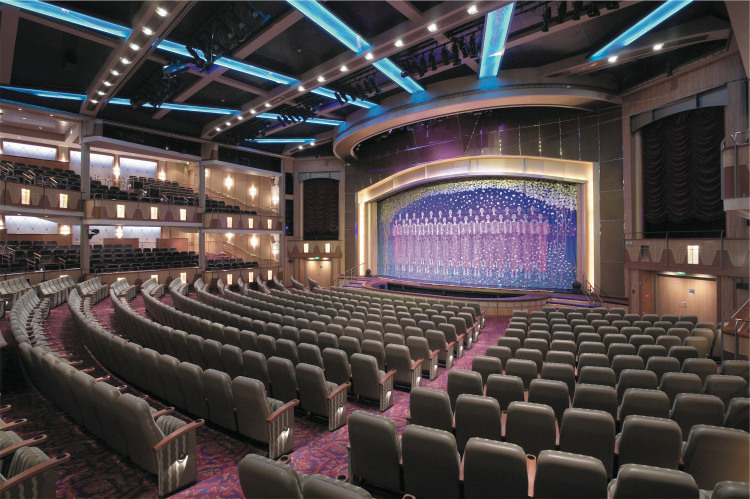 Standing five decks high (from orchestra pit to domed ceiling), the impressive Palace Theatre showcases contemporary musical stage productions, West End style shows and stand up comedians.
Studio B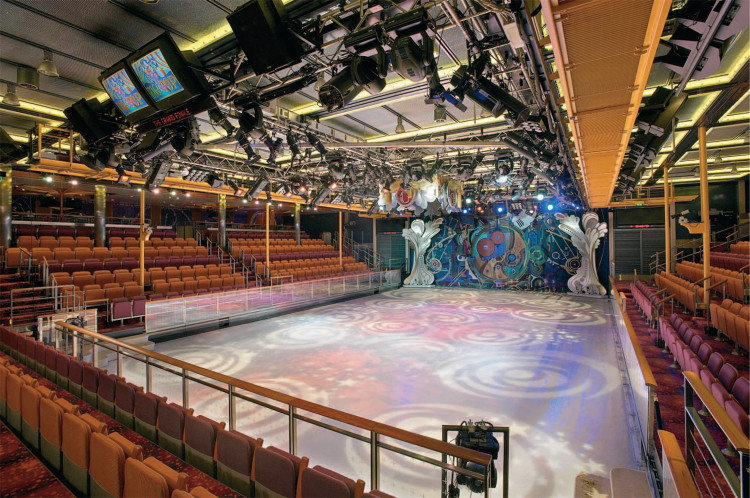 Studio B is a multi-purpose complex housing a wide range of activities – from ice skating to cooking demonstrations and classes.
The Champagne Bar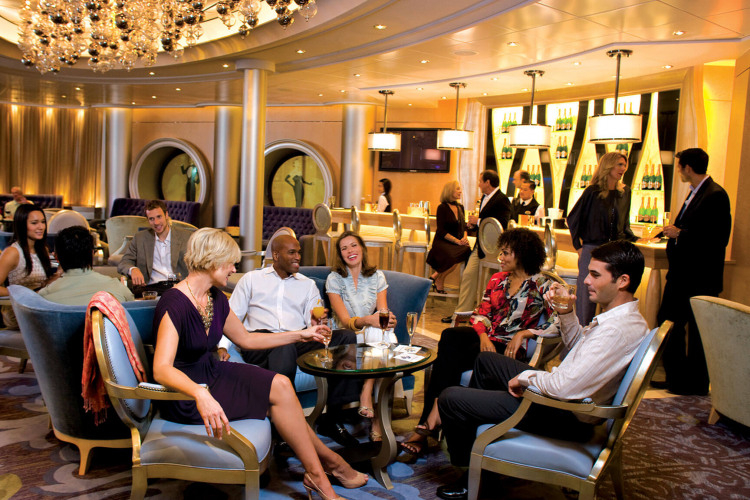 The Champagne Bar is elegant, sophisticated and most importantly stocks some of the finest champagnes at sea. This venue is great for a special occasion, a pre dinner drink or just to celebrate that you are on holiday. Accompanying drinks will be an assortment of canapés.
The Tavern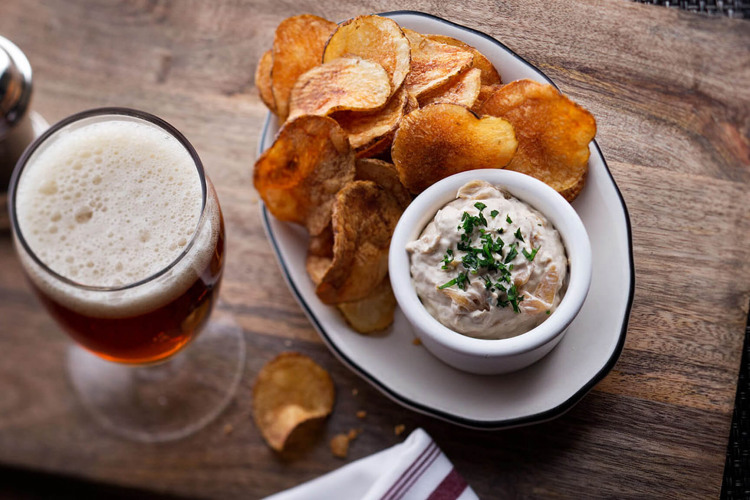 Offering traditional ales and lagers within a great British pub atmosphere, this venue truly is a home from home.
Pool Bars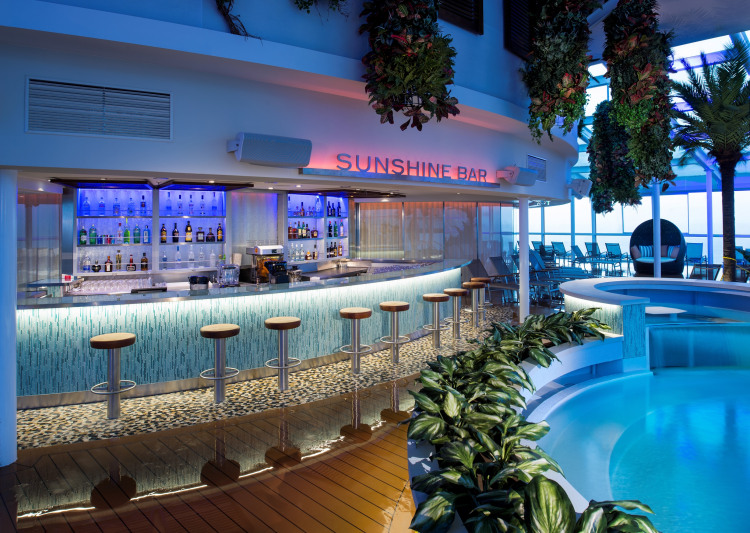 The ship's pool bars make it easy to stay cool in the sun without having to stray too far from the deck chair. They offer a range of refreshing drinks and cocktails for passengers to enjoy.
Schooner Bar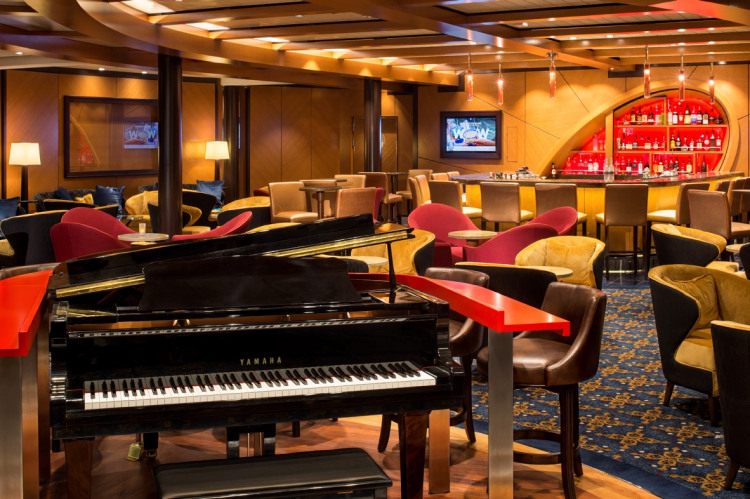 This nautical themed bar is available on all Royal Caribbean ships. In the evening this is a popular place to be, with live piano playing and singing.
Sports Bar
Passengers can grab a beer and catch all the big matches in the ship's Sports Bar. It's just like your favourite sports bar at home - only it's at sea!
Viking Crown Lounge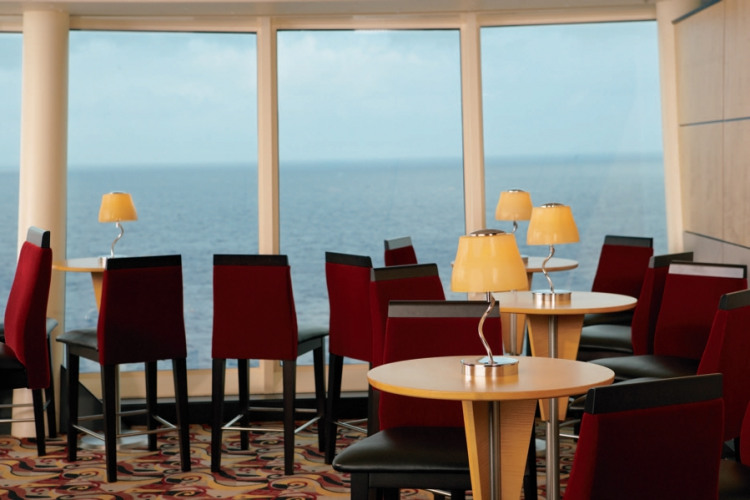 Offering the best views at sea The Viking Crown Lounge is Royal Caribbean's signature bar. Located on the top deck, this glass lounge, offers unmissable panoramic great views.
Art Gallery
Original art is displayed in the onboard art gallery as well as throughout the ship. To purchase something for your own collection, visit an onboard art auction.
Star Lounge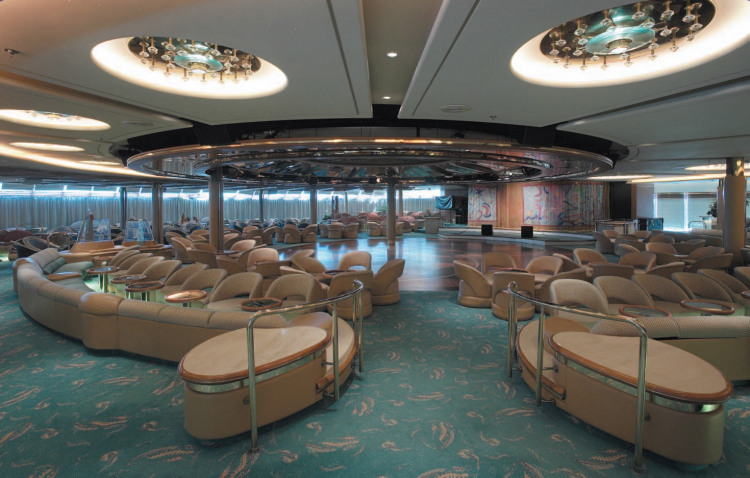 Live music, dancing, and entertainment.
Connoisseur Club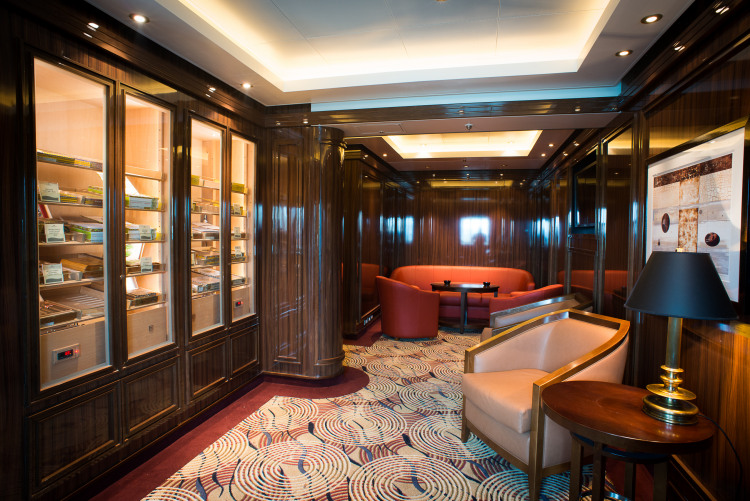 This dimly-lit lounge is perfect for sipping on a cognac.
R Bar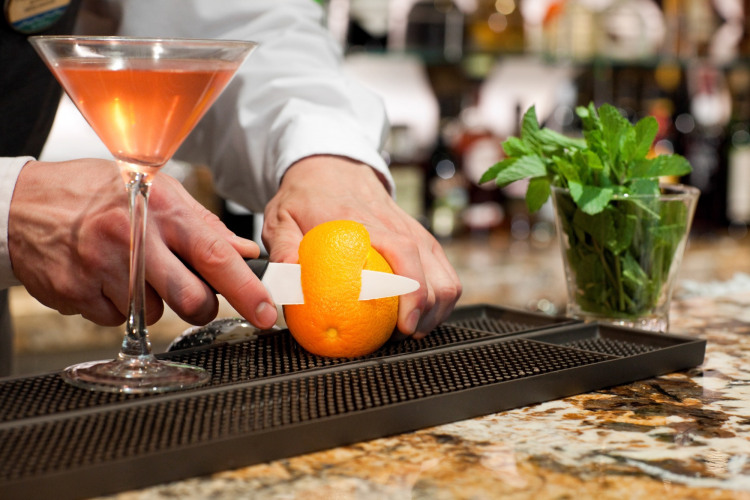 Experience a 1960s vibe at the all-new R Bar, featuring iconic furnishings and classic cocktails — gimlet, martini, gin, whiskeys and more — all served by the ship's resident mixologist. And be sure to try the drink specials, specially created to complement the Centrum's nightly theme and aerial performance.
Library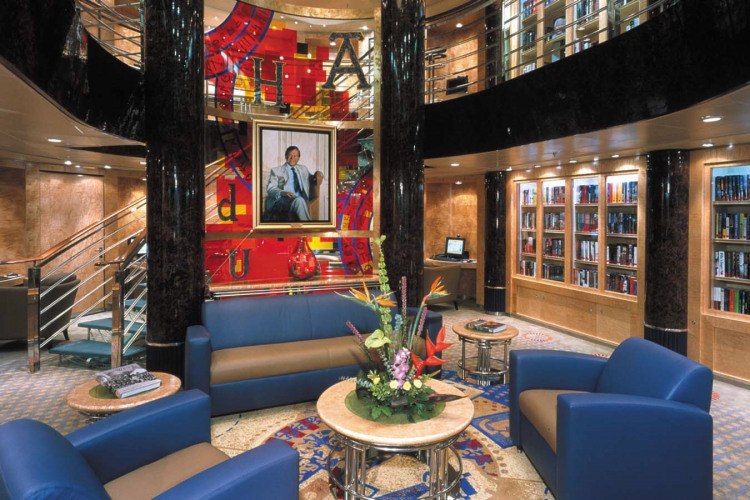 Peace, quiet, and your next great read – find it all at the well-stocked library, featuring a variety of genres, plus tables for cards and board games. Everything's complimentary for your enjoyment.
Concierge Club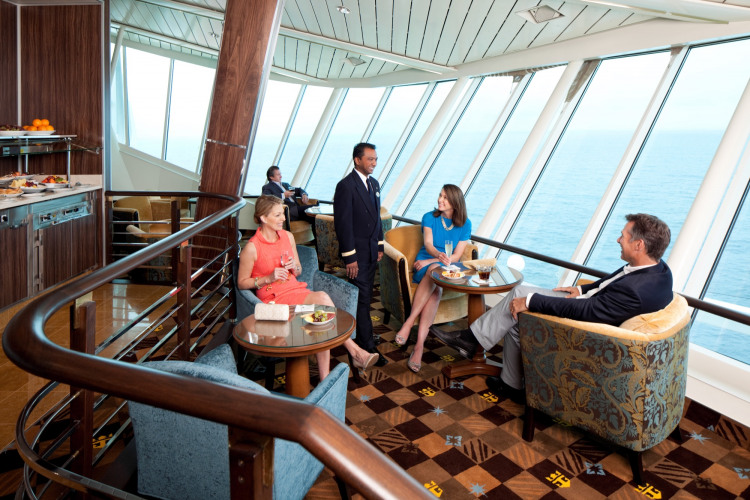 Guests staying in Grand Suite-level rooms and higher, Diamond Plus and Pinnacle Club Crown & Anchor® Society members enjoy access to this lounge serving complimentary continental breakfast and evening drinks.
Outdoor Movie Screen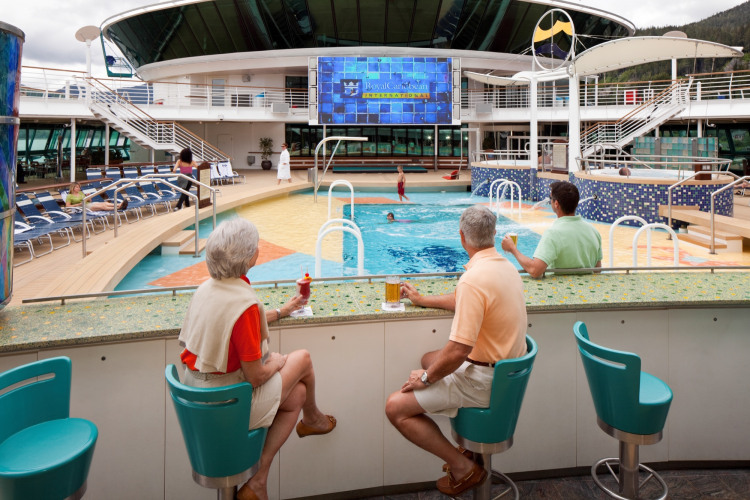 Watch first-run movies and big time sporting events the way they were meant to be seen - poolside, under the stars. A screen hoisted above the main pool area will showcase all the larger-than-life action.
Diamond Club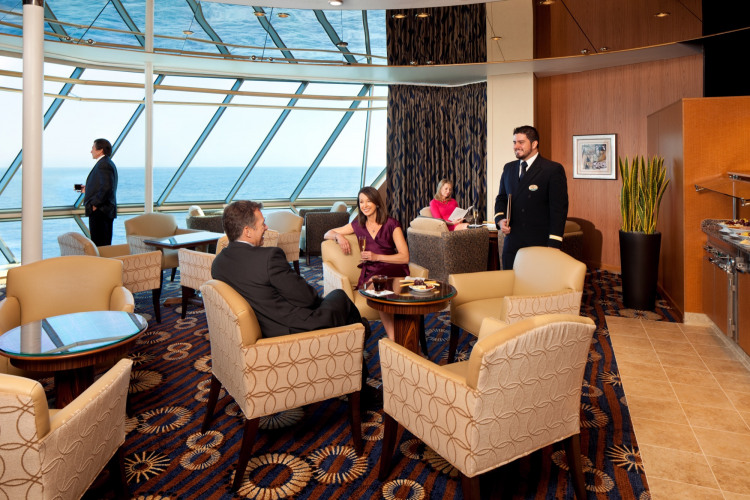 Diamond, Diamond Plus, and Pinnacle Club Crown & Anchor® Society members enjoy access to this lounge, created to serve these loyal guests with concierge access, complimentary continental breakfast, and evening drinks.
The ship features a fantastic array of health and fitness facilities including a spa, fitness centre, rock climbing wall and much more.
Vitality Spa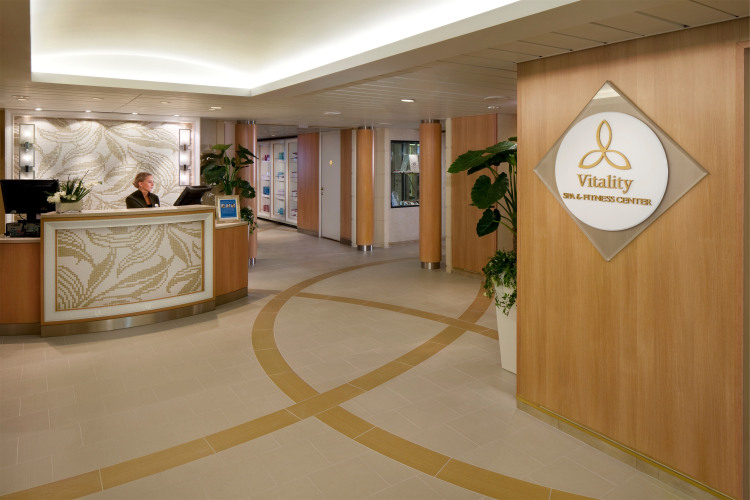 A range of services and relaxation treatments are available from the Vitality Spa & fitness Centre. The salon, located within the spa area, offers haircuts, styling, manicures, pedicures and teeth whitening. Visit Vitality Spa for massages, reflexology, facials, bodywraps and acupuncture. 
Health, fitness and beauty demonstrations are run by qualified professionals during most voyages. The Vitality Wellness Programme offers a holistic approach to well being, with seminars, expert advice, healthy menu options, fitness programmes and spa.
Sports Court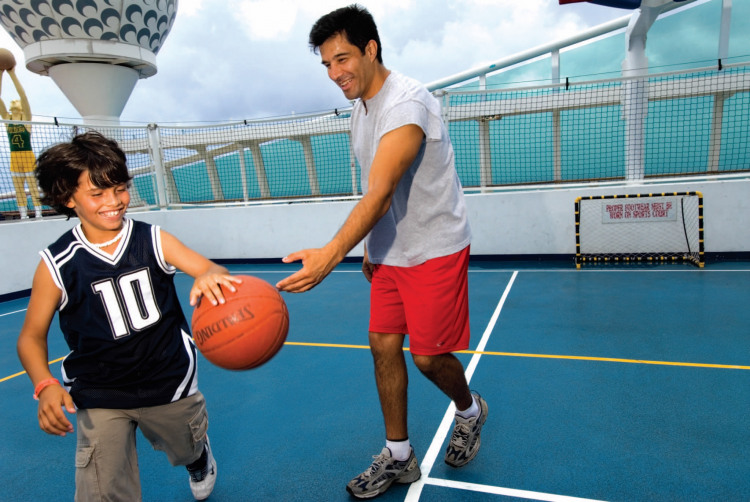 Passengers can also enjoy the ship's fantastic sporting facilities, which include: an ice rink, a golf simulator, a jogging track, as well as basketball and volleyball courts. Thrill seekers can also try out the impressive rock climbing wall.
Solarium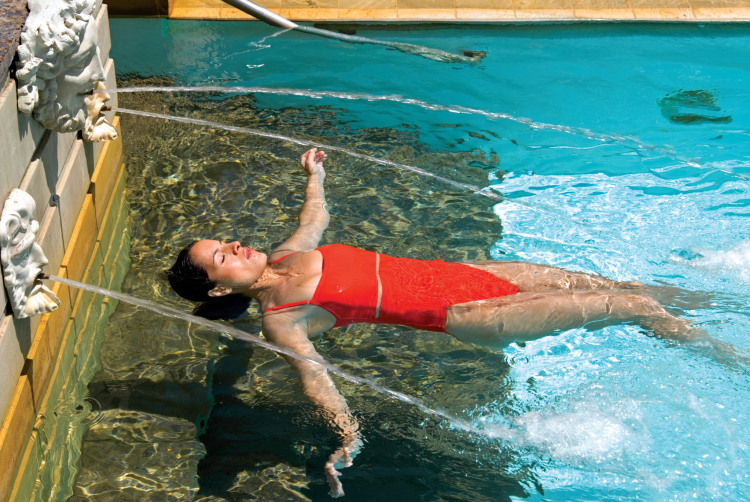 The Solarium offers a calm, quiet, peaceful atmosphere for adults to relax in. Both in and outdoors, the lounge area can be covered during cooler weather by a large glass roof.
Rock Climbing Wall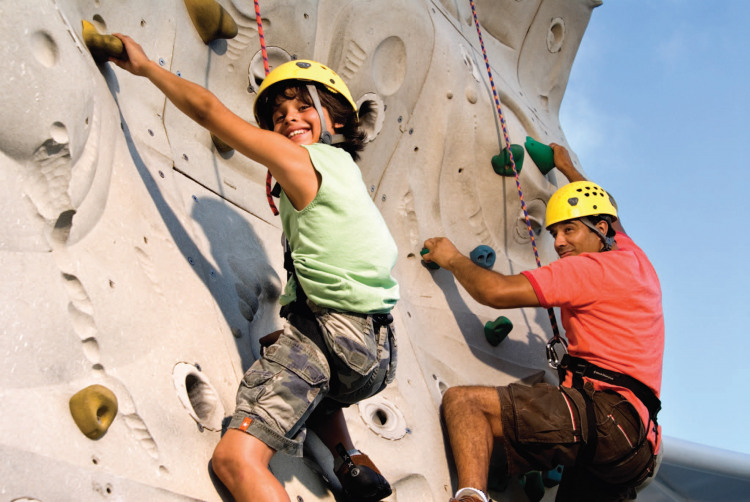 Ever thought about climbing a rock wall 200ft above sea level? With the ship's onboard rock wall this can become a reality. Passengers who take on the challenge will experience some of the best views at sea.
Flowrider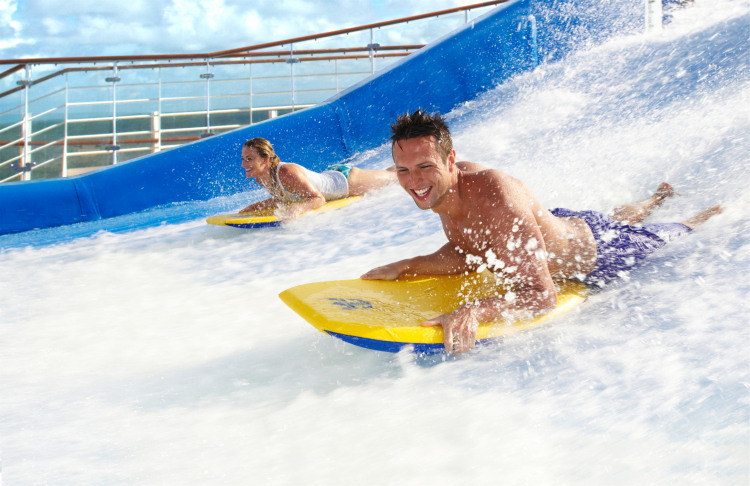 Your friends are never going to believe you surfed onboard a ship! Even the best beaches have bad days, but on the FlowRider®, surf's always up. Plus, whether you're boogie boarding or surfing, the FlowRider® is great fun for all ages and all skill levels.
Explorers Dunes Golf Course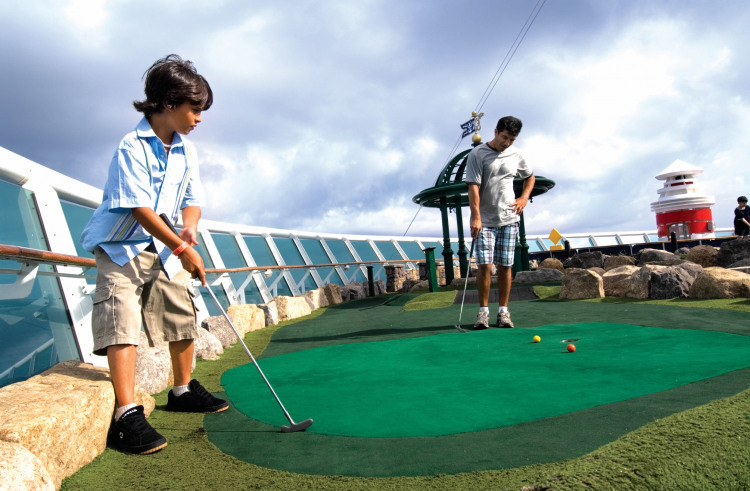 Our 9-hole miniature golf course will entertain adults and children alike.
Swimming Pools & Whirlpools
Warm up in one of the relaxing whirlpools or take a refreshing dip in one of the three swimming pools.
Running Track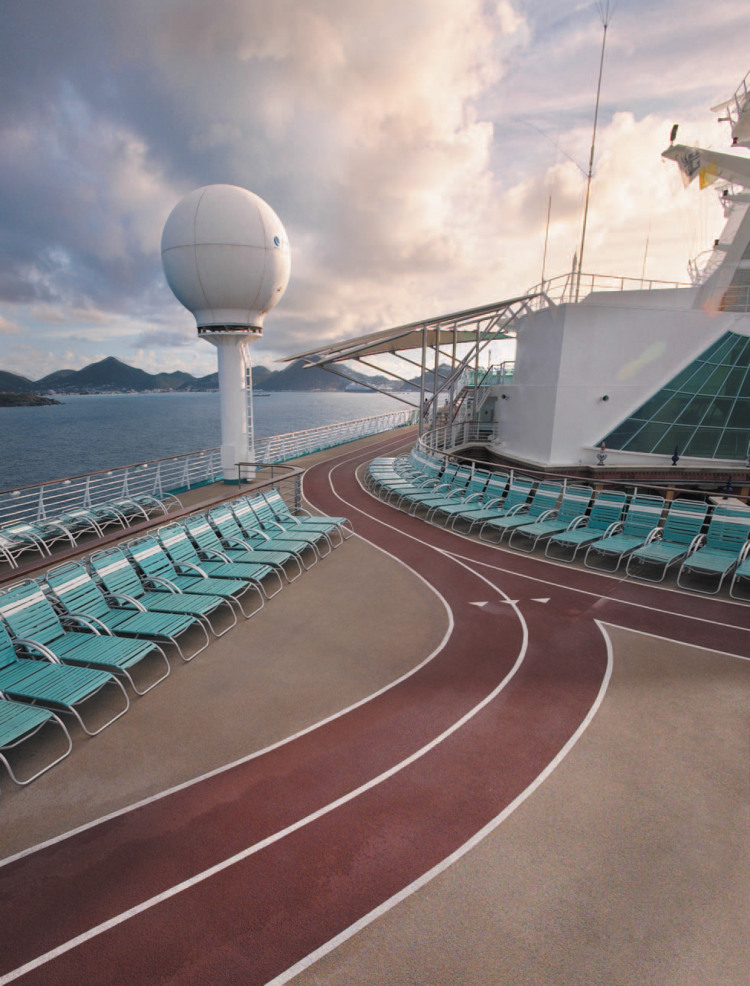 Run laps while taking in the view with tracks that are open to anyone.
Enrichment programs, or 'Explorer Academy' classes cover a wide range of topics, from wine tasting to casino tuition.
Explorer Academy
Classes include:

Wine tasting - learn about wines from around the world

Casino tuition - from poker to blackjack, learn how to play some of the casino's most popular games

Dance and fitness - including yoga, pilates, ice skating and dance

Language

Cookery - try your hand at cupcake decoration

Royal Caribbean International's cruise ships offer a wide range of options for the whole family, as well as a great range of just-for-kids options.
Adventure Beach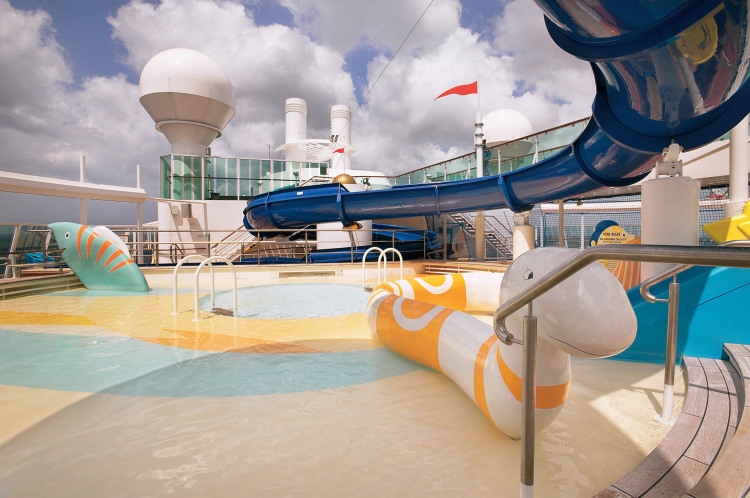 The Adventure Beach family pool area offers deckchairs, a slide and pool for kids to splash around in to their hearts content.
Optix Teen Disco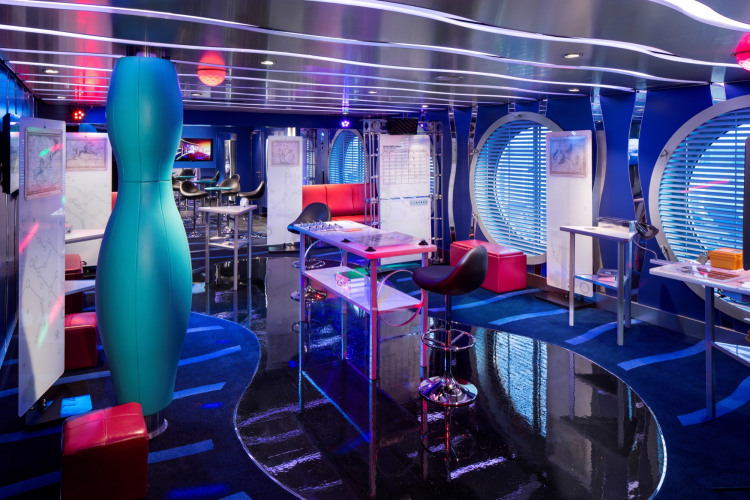 Optix Teen Disco lets teens have the chance to relax, hang out, dance and have some fun away from mum and dad.
Adventure Ocean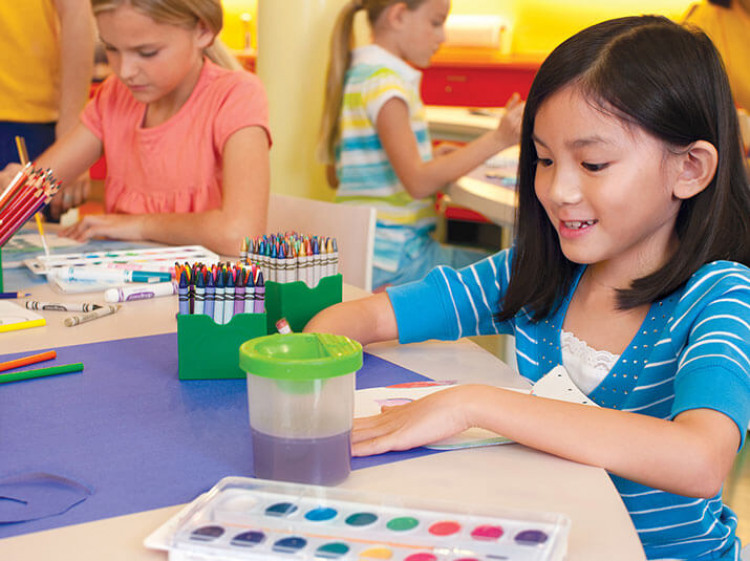 A play area with specially designed activities for kids from 3-17. Run by exceptional, energetic and college-educated staff.
Video Arcade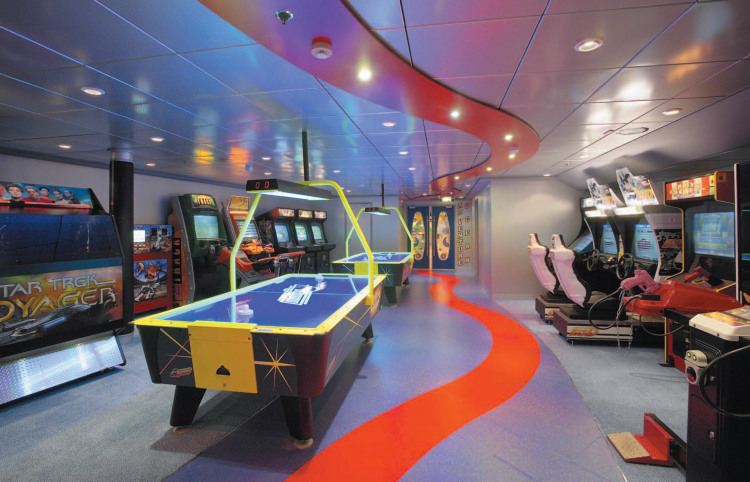 Blips, bleeps, clangs and cheers. Play to win in a classic arcade atmosphere with timeless games like Pacman and table hockey, plus the latest – Guitar Hero, Fast and Furious Drift and more.